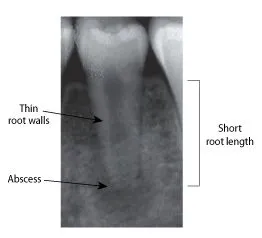 Traumatic injury and endodontic infections involve the pulp of children's permanent teeth while the roots are incompletely formed. Regenerative endodontic procedures have the potential to allow for continuation of root development and are the newest therapeutic approach in the management of incompletely developed permanent teeth. The appropriate treatment modality for your child's case will be determined by one of our doctors and one of the following protocols may be performed:
Apexogenesis:
Apexogenesis is a procedure that involves the capping the inflamed dental pulp of a vital (living) incompletely developed tooth. Inflamed pulp tissues are removed and a sedative material is placed followed by a permanent restoration. The goal of apexogenesis is the preservation of vital pulp tissue so that continued root development with apical closure may occur. Root canal treatment may be required after successful apexogenesis.
Apexification:
Apexification is a procedure performed when the pulp is necrotic (dead). In this procedure, necrotic tissue is removed, the tooth is disinfected, and the root end closure is induced by the delivery of a biocompatible root filling material - MTA. The goal of apexification is the formation of a calcified barrier across the open root end. Traditional root canal treatment is typically performed after a successful apexification procedure.
Revascularization:
The first step in this procedure involves disinfection of the pulp tissues and the application of a triple antibiotic paste. After disinfection the triple antibiotic paste is removed and a biocompatible material - MTA - is used to fill and seal the pulp chamber. A permanent restoration is delivered on top of the MTA to ensure the tooth remains sealed. Successful revasculaization cases result in increased root length, thickening of root walls and root-end closure.